When you first find Extraworld, you may have doubt:
Is this company trustworthy?
Will Extraworld cooperate with me good?
Do they do correct product to match sample?
Today I will show you two of our customer's feedback examples. After read the two cases,you will be more familiar with us.
Customer feedback 1:

This feedback from customer shows that our novelty mug is their top seller, so he has a strong demand on creating more similar mugs for fall season. This powerful guide gives us crucial insights into every part of our company. We believe the most important thing for us to do good job is listening to customer feedback and make our customers involved in development plan. When asked for an opinion on a product, our customers become a part of our creative team.
Customer feedback 2: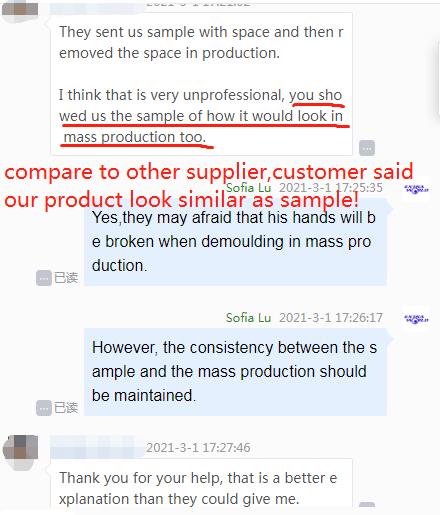 The above is a chat with one of our customer, sometimes customers will ask us for help, for example this shows us about defects of their supplier. That supplier chooses to ignore the sample and do bad painting. On the contrary, customer said our product looks similar as sample!
Extraworld always makes effort on establishing mutual trust with our customers, and we understand there are always problems unexpected, sometimes in customer side, sometimes in our production side. It is our responsibility to solve problems in China.We are willing to analyze the situation rationally, treat customer honestly and solve problem effectively together. It is not just WHAT our customers buy from us, and it is WHY they buy from us.
Thanks for reading this passage.I believe you do understand us more!